Skiing in Obertauern is absolutely the very best. But there are also many other sports available, such as cross-country skiing, tobogganing or a romantic sleigh ride for a change of pace and a lot of fun. You'll never be bored during your ski holiday in Obertauern. After an active day of skiing, there are many ski huts to choose from, along with après ski bars and restaurants.
Fact check for Obertauern
1000 km of manicured slopes
26 km of cross-country trails
Easy, medium and difficult slopes
A holiday in the mountains without your car. Even your car needs a break sometimes.
Frolic in the snow from November to May
2 toboggan runs (day and night)
Hit the slopes right at our doorstep.
Exuberant and fun atmosphere in the Obertauern ski huts
Great atmosphere for après ski fun
The best facilities
Things to do off the slopes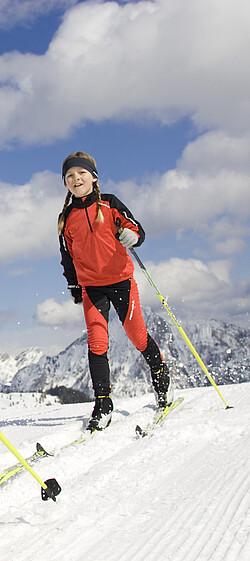 Cross-country skiing
Both skaters and classic cross-country skiers come to Obertauern for a full tour of the 26 km-long cross-country skiing trails
Taurach cross-country ski trail
On the 13 km-long cross-country skiing trail, cross-country skiers can put their skills to the test (in both directions) on the stretch from Radstadt to Untertauern. This stretch is the perfect fit for beginning and advanced skiers, as well as real professionals.
Twenger Au cross-country ski trail
With 23 km, this is the longest trail and runs between the two towns of Tweng and Mauterndorf in Lungau. Start: Franzenbauer in the centre of Tweng, at the timber stockyard in Tweng or at the Maly bus stop .
Extending 10 km, the World Cup Trail is on the short side, but it is still a challenge with its medium level of difficulty. Start: Zehner car park P2.
Hundsfeld cross-country skiing trail
This 6-km cross-country trail starts on the sunny side of Obertauern with a view of the Hundsfeldmoor nature preserve. It is one of the most popular in Obertauern among cross-country skiers. Start: north of the sports centre or above the Lürzer Alm.
Gnadenalm cross-country skiing trail
The Gnadenalm, stretching for 15 km, is one of the longest cross-country trails in the region and always has plenty of snow. It is a special find, because it covers all levels, and you can rest assured of the very best conditions. Start: approximately 4 km from Obertauern, in the direction of Radstadt.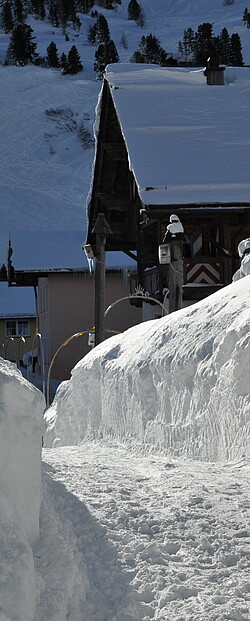 Snowshoeing
If you go on a snowshoe hike you will be able to enjoy the most pristine and beautiful natural scenery. This sport is the perfect alternative to skiing on the slopes in Obertauern. Depending on the level of difficulty, you should be in good condition and ready for a challenge. Still, you will be able to finds absolute peace while trekking through the deep snow, and the real payoff is the breathtaking views of the snow-capped Obertauern mountains.
Sleigh rides
Enjoy a cosy and romantic horse-drawn carriage ride through the snow-covered winter wonderland of Obertauern.
The sleigh ride will take you from the Gnadenalm back to Hintergnadenalm and lasts about an hour. Later, you can enjoy delectable tidbits at the Gnadenalm Restaurant.
Tobogganing
With a total of 6.5 km of tobogganing fun available in Obertauern, you will have a hard time deciding where to go. You can glide down the hills in the bright sunshine and also at night under the starry sky. Obertauern has lots of options for you.
The Gnadenalm toboggan run has lighting at night and you can go tobogganing day or night at high altitudes.
The tobogganing trail on the Südwienerhütte is about 5 km long and guarantees a special experience for young and old. It begins right outside the Südwienerhütte.
Snow biking & snow kiting
Have you ever heard of those new and trendy sports called snow biking and snow kiting?
With snow biking you are sure to have an adrenaline-charged experience. Propelled by a kite-screen and a lot of wind, you practically float in mid-air with your skis or snowboard. After only a few hours of training, experienced skiers should have it down.
With snow biking, skiers simply exchange their skis for a snow bike. After a brief training session you will be ready to whiz down the fabulous slopes of Obertauern on a snow bike.
Ski tours
In Obertauern you will find fantastic routes for world-class ski tours between the Gnadenalm and Südwiener hut or the Hundfeldloipe Trail and the World Cup Trail. Overall, there are more than 20 varied routes for ski tours.
Obertauern Snowboard & Snow Park
For snowboarders as well there are several ways to enjoy holidays in Obertauern when you take to your skis. In addition to the perfectly groomed slopes in the Obertauern ski resort, you will find the Kehrkopfbahn to be a more versatile and adventuresome Fun Park. Here freestylers can try out their skills with the Kicker, Easy Roller, Quarter Pipe. The Fun Park is sure to provide a lot of variety, fun and action for young and old snowboarding talents.
Night skiing
For many guests in Obertauern, night skiing on the Edelweissbahn is an absolute high point during their skiing holiday in the Obertauern snow paradise. Every Monday and Thursday from 7:00 p.m. until 10:00 p.m. the 1500 m long runway is illuminated with floodlights, so that you can enjoy a very special experience.
Ski cards for 1½ days or longer are also valid for night skiing.
Obertauern
Guests in Obertauern are always delighted to find out how well laid-out Obertauern is. Constantly making road trips down into the next valley for shops and service providers is a thing of the past. Our guests can find everything they need in Obertauern.
In this snow-covered town, shopping won't be like finding a needle in a haystack. Everything you want is easy to find, and it is all within walking distance. Everything is there: supermarkets, a bakery, restaurants, bars, and – needless to say – sporting goods and fashion boutiques as well. For your convenience, Obertauern also has a bank, a doctor and a chemist, as well as a hair stylist and an optician.
Plenty of snow for 180 days
'We are snow'. There's a good reason why Obertauern was called the snowiest resort in Austria by the famous ski tourism researcher Günther Aigner. In early November, the legendary Frau Holle thoroughly shakes out her pillows over Obertauern. Precisely at this time, Obertauern is transformed into a gorgeous white winter landscape. Here you can experience a glittering winter wonderland while in most ski resorts not a snowflake has yet touched the ground. Even as late as May, you can see skiers who are still doing zig-zags down the perfectly groomed slopes in Obertauern.
Nightlife
Obertauern is famous for its good combination of relaxation areas and party areas. In this mountain resort guests looking for relaxation will find peace and quiet, but partygoers will always be able to find a party they can go to. When the sun goes down, the nightlife starts in the partying area. The party spots are far enough away so that guests will not be disturbed and can enjoy their well-earned holidays in Obertauern.
A remarkable number of bars and après ski spots have popped up over the years in Obertauern. Every year they are visited by guests of all ages.
All the popular places are within walking distance, and many are right in the middle of Obertauern. Evocative and infectious après ski music beckons you to join in the exuberant celebrations.
Let yourself go in THE party area in the Salzburg Alps!